UK Workshops
Langtons modern, fully equipped UK workshops enable us to provide consistently Superior Steel Products. We control every aspect of the build process and ensure our clients receive exceptional service from enquiry to final delivery.
When it comes to our Steel Products & Structural Steel, Langtons can offer a wide range of services. From single beams for loft conversions and house extensions to medium sized steel framed buildings.
100 Years of Experience
 From its inception over 100 years ago, Langtons has gradually developed into a modern, customer focused metalwork and steel fabrication business, with a passion for quality and problem solving cost-effective solutions.
As a result, Langtons continues its long tradition as an extremely innovative business that is constantly adapting and expanding its core expertise in order to meet its customer needs and programme requirements. This has resulted in a company that can readily respond to new customer requirements and apply unique solutions across a variety of manufacturing and engineering disciplines.
We Manufacture
Site Safety, Waste Handling, Storage, Fork Attachment Products as well as Handrails & Balustrades, Fire Escapes, Mezzanine Floors, Structural Steelwork, Architectural Metalwork, Security Grilles
As part of our service we are able to offer in house painting and can provide galvanized and powder coated finishes where required.
 We are totally committed to offering the very best in customer care and once we understand your design concept, our detailer can provide working drawings for the fabrication of your particular project.
Langtons (Northalleton) Ltd was a local ironmongers and blacksmith working for mainly the farming community specialising in agricultural machinery and milking equipment installations.
This business was acquired by Walter Thompson in 1961 and following the move to its new premises on Finkills Way, Northallerton in 1975, the company then started to develop the steel fabrication side of the business to sit alongside its thriving agricultural engineering work.
The company added construction site equipment to its manufacturing facilities in the mid 1990s, and the company can trace its origins back to 1830 when it operated a forge and ironworks business on Friarage Street, Northallerton.
Walter Thompson although originally formed in 1920, began trading in earnest after the 2nd World War, building new housing estates, hospitals, schools and office accommodation. Predominantly working in Northallerton and the surrounding area Walter Thompson soon gained a reputation as a quality family builder and became one of Northallerton's major employers.
During this same period a House Builder and General Contractor called George Fordy & Son of Teesside were also making their mark. Gaining an enviable reputation not only as a house builder but working for local councils and Health Authorities alike. The company was established in 1908 and both companies often found themselves bidding for the same work.
Through strong family ties and following many successful years trading for both companies it became apparent that a merger would be both beneficial and cost effective working from one office. So in 1987 the FT Construction Group was formed using Construction House, Northallerton as its base of operations.
Walter Thompson continued trading as a General Contractor while George Fordy focused on House Building, Private Development and Property Investment.
Looking to expand into the Reactive and Planned Maintenance market the FT Group acquired Tom Willoughby Ltd in 1994. This local maintenance company also came with a long history of its own, working in and around Northallerton from as far back as 1896. It moved into its new premises on Standard Way, Northallerton back in the mid 1980's and now has 4 regional offices in Catterick, Scarborough, Harrogate, and Leeming.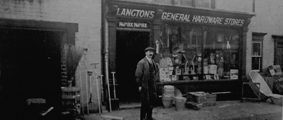 1830 – Langtons (Northallerton) Ltd Established

1896 – Tom Willoughby Ltd Established

George Fordy & Son – Established in 1908

1920 – Walter Thompson Formed

1961 – Walter Thompson Acquires Langtons

1987 – FT Construction Group Formed

1994 – FT Group Acquired Tom Willoughby Ltd


Originally formed back in 1987 to amalgamate the well respected and long established names within the construction industry of Fordy and Thompson.
It created a substantial Construction Group with a turnover approaching £40 million and more than 300 employees.