Our success is built on the quality of the people we employ and the services they provide. Every member of our team has a vital job to do. That's why we are dedicated to helping everyone develop their skills and achieve their career ambitions. From apprenticeships to professional qualifications, we help our people achieve their aspirations so they can help us achieve ours; to be the best at what we do.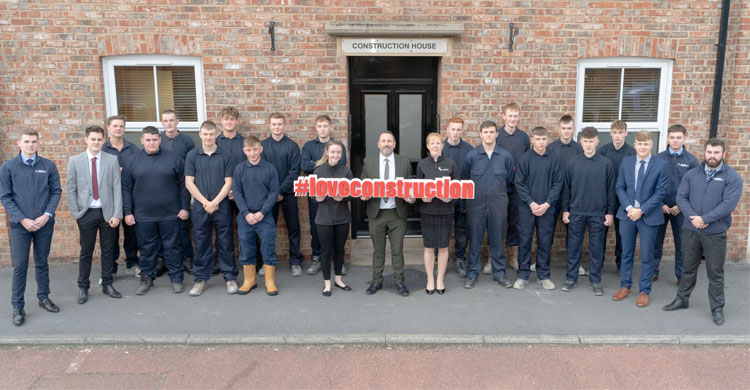 Training
Any company is only as good as its people. Thats why we believe in providing our team with high quality training to ensure our continuing success in the future.
Site Operative Training
As we directly employ Craft Operatives on our sites, safety is our primary concern. We provide regular and ongoing training, including tool box talks, to ensure everyone can carry out their roles safely, efficiently and to the highest possible standard.

Apprenticeships
We work closely with ConstructionSkills and Darlington College to offer structured, apprenticeships in the traditional building trades.
This gives committed and talented young people an opportunity to gain an recognised qualification and a secure future career with Langtons.
Higher Education & Professional Qualifications
Our commitment to training is not limited to the trades. We actively encourage higher education for our supporting team across many different careers including:
• Quantity Surveying
• Estimating
• Procurement
• Planning
• Human Resources
• Administration
• Accountancy
We also promote the attainment of professional qualifications. Many members of our team hold membership to the CIOB or other appropriate professional bodies.
Graduate Placements & Recruitment
We offer year out work placements to students and have strong links with the following universities and colleges:
• Darlington College
• Redcar and Cleveland College
• Northumbria University
• The University of Teeside
• Leeds Metropolitan University
We consider graduates when recruiting for all levels and positions, particularly for Quantity Surveying and Estimating positions.
Apprenticeships
Langtons work closely with Construction Skills and local Colleges to offer a structured City & Guild Level 3 Diploma in Engineering (Fabrication & Welding).
Our established Apprenticeship programme has been running for over 50 years and many of our Apprentices have gone on to progress and develop to management positions within our company. We are proud to maintain a high level of in-house trade skills.
As an Apprentice, with us you will:
• Be in full-time employment
• Gain a nationally recognised qualification
• Get hands-on experience to help you develop the skills you need to kick start a successful career.
On the job training is structured and agreed with us to ensure you learn the right skills. Off the job training is arranged for you at college. You will complete this training on day release or over a number of days in a series of blocks.
To apply for our Apprenticeship program please complete and send in the following form available by CLICKING HERE
Graham Shepherd
Pre Construction Director
Graham joined the company in 2001 as a Senior Planner and became a Director of Walter Thompson in 2010. Graham is responsible for the Pre-Construction Department co-ordinating all aspects of the planning and procurement process.
Paul Hammerton MCIOB
Managing Director
Paul joined Walter Thompson in 1985 and became Managing Director of Walter Thompson in 2015. Paul is responsible for overseeing all of our construction projects and operations.
Derek Greenwell
Director / Company Secretary
Derek began working with the Company in April 2005 as Group Company Secretary, and was appointed to the Board of FT Group in April 2007. At board level, Derek is responsible for all legal issues, insurance claims, company records and administration.
Keith Caygill
Group Director
Keith joined Walter Thompson straight from school in 1969. Originally from a background in Quantity Surveying and Estimating, Keith was first appointed to the board in 1986.
Keith Noddings
Group Financial Director
Keith began work with the company as an Assistant Group Accountant in 2000 and was promoted to role of Group Accountant in 2009. In 2012 Keith was further promoted to his current role. Keith is responsible for all financial matters within the group and reports to the Board of Directors.